20% Savings on 2nd Pair in Office
Here at Montana Eyecare we are proud to stock the cult classic Ray-ban. Founded in 1937, Ray-ban is a household name which has withstood the test of time. This brand is still recognised by all ages for their iconic styles such as the Wayfarer and Aviator.
This Rob RX6472 frame made from metal comes in gold. If you're struggling to find your perfect frames or need any assistance, please get in touch with us and one of our team members will be ready to guide you through the process in choosing your new Eyeglasses/Sunglasses.
| | |
| --- | --- |
| Brand: | Ray-Ban |
| Model: | RX6472 |
| Name: | Ray-ban Rob RX6472 |
| Color: | Gold |
| Gender: | Men, Women |
| Shape: | Geometric |
| Material: | Metal |
Frame measurements are listed in mm (millimeters)
If you wear glasses and have a pair already, check the inner side of the temples (arms), you may find the size information stamped.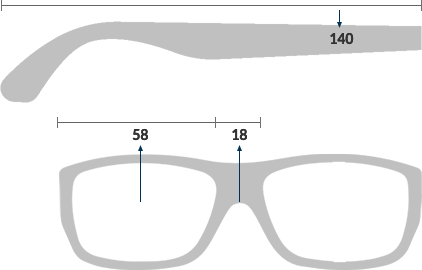 Domestic Delivery / Delivery
The delivery of items which are in stock take approximately 3-5 working days, whilst items that are not in stock take 5-10 for standard lenses. Up to 4 weeks for multifocal toric and XR lenses.
All orders under $150 will have a delivery charge of $8.99, whilst all orders above this will be FREE.
Deliveries are fulfilled via USPS.
Refunds & Returns
We are always here to help our customers. We understand that on occasion, purchased items need to be returned.
A full refund is offered (excluding delivery charges) with any product that you wish to return. Items are only eligible for a refund if they have not been opened or used, and if they are in original condition.
However, if we have made a mistake with your order, then we will be happy to offer a refund of all costs, which also includes money spent on postage and packaging.
Our Returns Address is:
Montana Eyecare
Online Returns
550 N. Montana Ave
Helena, MT 59601
Refunds
We are happy to accept returns within 30 days of purchase for a full refund. Items are required to be unopened and in original condition. Delivery charge will not be refunded.
Once accepted, refunds will take up to 7-10 working days to show up in your account.
Exchanges
We promise to provide an exchange service on items up to 30 days after the order purchase date. Items sent for exchange must be unopened and in original condition.
Exchanges can be performed for the same product with a different prescription, or for a different product of the same value.
When an exchange is requested for a product of different value, the price difference will be calculated excluding the delivery charge of the original purchase.
If you would like to make an exchange, please call our office.
Cancellations
If you wish to cancel your order, please contact us to do so. Any cancellations made during working hours, before your item has been dispatched, will be accepted. If your item has already been dispatched we will be unable to make any amendments to the item.
Successful cancellations will be refunded within 7-10 working days.
If you receive your item, and decide you would like to change your order, you are welcome to make an exchange. (please see exchange policy for further information).
FAQ's Shipping & Returns
My order has not arrived, what should I do?
Please allow up to 7 working days for delivery. If you have not received your order after this time, please contact our practice by phone or email.
My goods arrived damaged, or my goods were not delivered.
If your package arrives damaged, or does not arrive at all, we are happy to replace your items. Please call us and one of our team members will talk you through the process.