Diabetes is the leading cause of preventive vision loss in working adults (18–64 years old) in America. Even more concerning, is there are not always obvious signs or symptoms. In 2018, Doctor of Optometry diagnosed more than 301,000 cases of diabetic retinopathy in patients who did not even know they had diabetes. Fortunately, a comprehensive eye exam from the doctors at Montana Eyecare can help identify and limit the risk of permanent vision loss.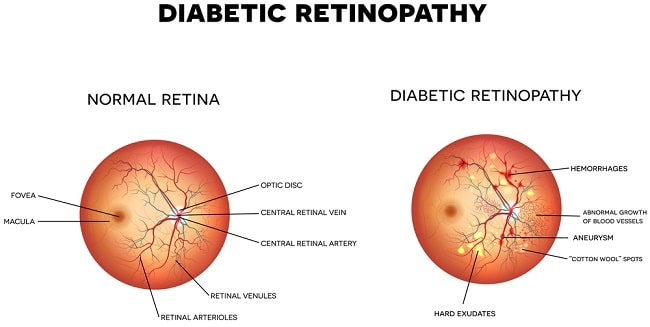 High blood sugar levels may damage the tiny blood vessels of the eye, resulting in diminished vision function. A sudden loss of vision, blurred vision, difficulty reading, or floaters – small specks that may cross your field of vison or possible symptoms of retinopathy.
Trust the Team at Montana Eye Care for Diabetic Eye Care
It is important for everyone with diabetes to have access to the best quality eye care treatment available. Diabetic retinopathy is a serious complication that can leave someone with permanent vision damage. Anyone who has questions or concerns regarding eye care for diabetics should give Montana Eye Care a call today. Our experienced providers are here to provide you with the education and care required to keep your vision well into your later years.
Request an appointment online or Contact our team on (406) 443-2121 to schedule your next eye appointment or to learn more about how our optometrists help patients in Helena and surrounding areas.